We are pleased to announce that Andrew Lucas (but sadly not Jürgen Schmieschek or Michael Lucas) will once again be appearing with the 1914-21 Society at the Memorial Museum Passchendaele 1917 in Zonnebeke on the weekend of 23rd-24th April 2016 for this year's living history event. Naturally signed copies of Fighting the Kaiser's War and The Saxons at Zonnebeke will be available upon request!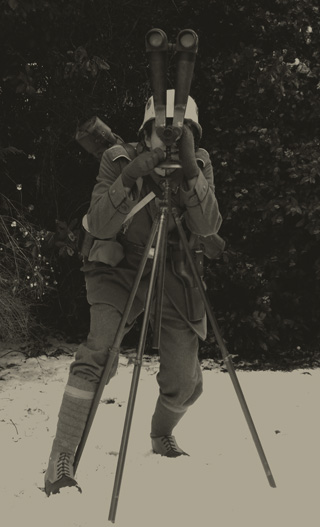 The unit I am representing will again be 2. (sächs.) Batterie / Reserve-Feldartillerie-Regiment Nr.54, part of the mixed Württemberg-Saxon 54. Reserve-Division / XXVII. Reserve-Korps. As our readers will know, prior to the Second Battle of Ypres Zonnebeke lay less than a kilometer behind the French (and later British) front line opposite this corps. The town was occupied without a fight by Saxon infantry (Reserve-Infanterie-Regiment Nr.241 from Dresden) on 4th May 1915, after the British had been forced to withdraw overnight. From then until the XXVII.RK was withdrawn at the end of January 1916, Zonnebeke remained in its operational area and housed some of the corps reserves and heavy artillery. The 7.7cm field gun battery I will be representing (2. / RFAR 54) was based up the road to the west of the town, hidden from observation by the reverse slope of the infamous Frezenberg Ridge. So in short, the men of this specific unit were once a common sight in Zonnebeke and a part of local history which I aim to highlight for our visitors.
Due to dramatically improved transport arrangements and the loving support of a very good (and long-suffering) woman, my display this year will be much more substantial, and will include a battery commander's periscope (Scherenfernrohr) and accessories for the sadly still unobtainable 7.7cm Feldkanone 1896 n.A. My uniform and personal equipment will also be developing to reflect the improvements of 1916. Could a promotion to Unteroffizier also be in order...?
We have a lot more events in the pipeline for 2016, including overseas appearances in several European countries. I hope to see many old friends, make some new ones and - most excitingly - appear for the first time in uniform together with other Royal Saxon reenactors (not at Zonnebeke but soon). Watch this space for further details!