By Andrew Lucas and Jürgen Schmieschek
Pen & Sword 2015, 256pp, hardback (paperback to follow 30th May 2022)
"I was seriously impressed by the robustness of the study. This is a book that any fan of world war one should possess... You will not regret this one at all."
- Colonel Joe Robinson (author of the Handbook of Imperial Germany, Great War Dawning and The Last Great Cavalry Charge)
"Highly recommended... This highly illustrated book provides a vivid picture of war at the tactical level"
- Jack Sheldon (the leading authority on the German Army in the First World War)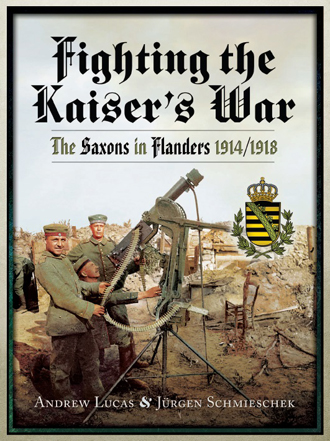 "Using archival documents, regimental histories and unpublished personal material, this well presented Saxon experience of the conflict is the first work in English on the Royal Saxon Army during WW1. The book features an excellent collection of over 300 hundred previously unpublished wartime photographs, newspaper sketches, wartime artwork and maps. This really is an excellent and important work, and one which is highly recommended by this reviewer."
- Stuart Asquith (author of umpteen books)
This book is truly a labour of love, which completely dominated our lives for several years. While I was responsible for the English text (including the translations), Jürgen typeset, designed and laid out the entire book; the research was a joint effort. The result is (to our knowledge) the first English-language history of the Royal Saxon Army on one of its most critical fronts. Within 256 pages it somehow contains (after much painful squeezing):
Introduction to the Kingdom of Saxony and its armed forces up to 1914.
Overall survey of the Saxon role in the German war effort, and wartime development of the Royal Saxon Army from mobilisation to its peak of nineteen divisions and ultimate collapse.
Year by year description of the Saxon war in Flanders, indicating how, when, where and why each major Saxon formation was involved.
Survey of the known involvement of small independent Saxon units in Flanders (including heavy artillery, mining companies and the Landsturm).
Extended features on the lives and deaths of ten Saxon soldiers (from infantrymen to a brigade commander), based on unpublished diaries, correspondence and corroborative material from other sources.
Over 300 illustrations - photos, maps, sketches and original documents. We have drawn mainly on our own collections, and are confident that most of the photos will never have seen print before.
ZERO blank pages! We used the chapter title pages as an opportunity to showcase particularly fine photos in full page format. This will be the case in all of our books.
We made a particular point of trying to pin each unit down on the map as clearly as possible and to identify opposing units wherever space allowed, in the hope of helping readers to find where their own individuals, units and places of interest (on both sides of No Man's Land) fit into the story of the Saxons in Flanders.
The book is currently available in Kindle or ePub format directly from Pen & Sword, and can be pre-ordered in paperback (due out 30th May 2022). We have our own limited stocks of the original sold-out hardback edition for sale (signed if desired); please contact us if interested.